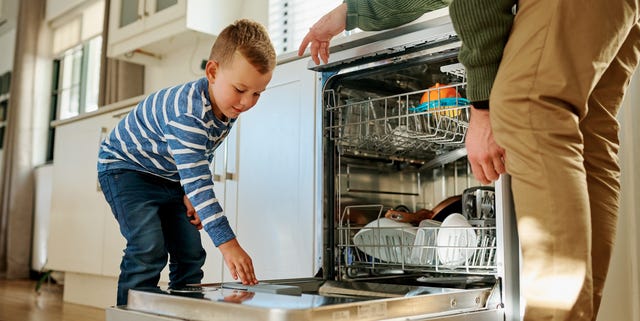 Are your appliances in need of a thorough cleaning after some extended time indoors? Buildup on household gadgetry can be intimidating, but cleaning any grime away can extend the longevity of your appliances and keep them in good working order.
Dishwasher
It happens to the best of us: food particles can get lodged in the dishwasher and can lead to lingering odours or streaky dishes after you run the wash and rinse cycle. Luckily, cleaning a dishwasher is relatively easy and goes a long way in keeping it performing at its best.
How to Clean a Dishwasher
Start with pulling out all of the racks and dish trays. You can put vinegar in the slot that typically holds your dish detergent tab to clear out any lime buildup. Then run the dishwasher empty to rinse the machine of any deposits. After this is done, wipe down the fan slats, typically found above the top dish rack. Wipe down with a dry towel or leave the door open to air dry once done.
Coffee Maker
A daily cup of coffee can wear on a coffee maker over time. Give your coffee maker a thorough cleaning by disassembling the machine to wash all of the parts before going in for a more detailed clean of the smaller components.
How to Clean a Coffee Maker
Take apart the machine and deep soak and rinse the carafe and filter tray. Get rid of any water buildup by running though an equal mix of water and white vinegar as though you were brewing a cup of coffee. Get the best clean by stalling the cycle halfway through the run so that the cleaning solution can sit in the chamber for thirty minutes before letting the cycle complete.
Fireplace
Nothing beats curling up in front of a fireplace. But after the fire goes out, soot and smoke can stay trapped inside, staining the fireplace and mantel. Also, oils cast off from burning wood can collect in your fireplace and can be a fire hazard later on.
How to Clean a Fireplace
Wait until your last fire has been out for at least 12 hours before going at it with the cleaning supplies. Arm up with a face mask and rubber gloves. Sweep out any soot and coals so you have a clear go at the area before going in with cleaning rags. Passing over the area with a vacuum also goes a long way to prepping your fireplace for a good scrub. Now that your fireplace is clear of debris, apply a few spoonfuls of dish detergent and wipe the soot off with a damp washcloth.
Microwave
Raise your hand if there are small specks of food clinging about from the last time you overheated your dinner only to have it implode in your microwave? Don't worry: microwaves are one of the easier appliances to clean.
How to Clean a Microwave
Put a microwave-safe mug or container filled with lemon water and microwave it for three minutes. This will allow any grease and food stuck to the interior of your microwave to soften — and also diffuse any stubborn odours from leftover foodstuff. Douse a sponge in your favourite food safe cleaning solution to wipe down the inside walls. Remove the turntable tray and any supporting mechanisms and clean them with a damp cloth before replacing. Wipe the insides dry before giving the microwave exterior a quick pass with a damp rag.
Oven
Our ovens can all use a little love. Especially these days with all the quarantine cooking and baking we've been doing. Luckily, most ovens come with a self-cleaning option that can help us when it's time to detail them.
How to Clean an Oven
Preheat your oven to 225°F. Fill a shallow baking dish with water and place it on one of the racks and leave it in there for 15 minutes or so — the steam from this should diffuse in the oven and loosen any stubborn grease spots for when it comes time for your to wipe down with a damp cloth.
Fridge
None of us clean our fridges as often as we should — and tucking little boxes of baking soda deodorizer in its corners can only take us so far until its time for a long overdue clean. Best practice dictates giving your fridge a quick once over in sync with your garbage day — typically once a week — so you can junk any expired food before it goes off and plagues your fridge with any unwanted smells or residue.
How to Clean a Fridge
Luckily, fridges are relatively easy to clean: purge any unwanted or expired food and condiments. Then pack everything away out of your fridge and onto your counter so you can remove all of the trays inside. Wipe them all down with a soapy cloth and dry before replacing.
Shower Head
If your morning showers are spent looking questioningly at the weak spray of water trickling from your shower, your shower head may be overdue for a clean. Mineral deposits can make your shower head loose performance over time.
How to Clean a Shower Head
There is a quick and easy fix for cleaning your shower head: simply rub down the nozzles to dislodge any stubborn particles and then soak the shower head in vinegar by filling a sandwich bag and submerging the head and tying it off. You can leave the solution affixed to the showered for a few hours.
Stovetop
Cooking on a stovetop can be a messy affair: between pans spitting grease and a heavy hand on the seasoning, the top of your stove may be in need of a little makeover.
How to Clean a Stovetop
Douse your stove in cleaning agent and let it sit for a few minutes before gently prying any solid food waste away with a single-sided scraper. After this, take a damp cloth to wipe the cooktop clean.
Washing Machine
Washing machines need a little love too: soap scum and moisture can build up and lead to the appliance carrying a light odour, which can pass on to your clothing in your wash cycle.
How to Clean Your Washing Machine
The best way to keep your washing machine clean it to give the inside a cursory wipe down with each laundry cycle. A quick pass over with a damp cloth and cleaning solution should do the trick. A more thorough clean calls for a capful of bleach in the dispenser tray for a short empty cycle run.
Pilon Real Estate Group Featured Listings: Click here! 
We Keep You Covered When You Buy a Home With Our 12 Month Buyer Protection Plan!
Details at: www.HomeBuyerProtectionPlan.ca
Free Home Search With Proprietary MLS Access – New Listings – Faster Updates And More Accurate Data!
Find Homes Now: www.FindOttawaHomesForSale.com
Find Out How We Get Our Sellers More: Click here! 
RE/MAX Hallmark Pilon Group Realty
www.PilonGroup.com
Email: Info@PilonGroup.com
Direct: 613.909.8100