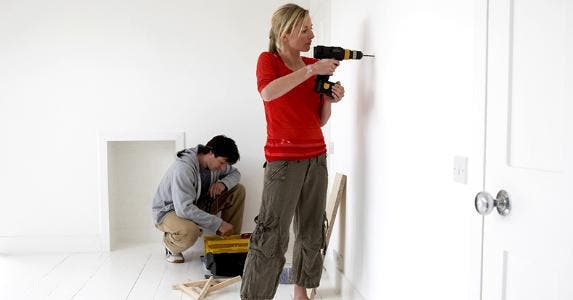 Owning your home often requires you to pick up at least basic DIY skills at some point. In doing so, you're able to carry out basic maintenance without calling the pros each time. Additionally, you'll be able to make changes to your home, such as adding shelves, hanging paintings or fitting a new shower rail. However, it's always best to proceed with caution, no matter how simple a task seems.
1.   Watch Out for Wires
One of the biggest dangers of drilling into your walls is that you'll hit a wire. At best, you've broken the circuit and you'll lose power until it's fixed; but, at worst, this mistake could be deadly. Fixing a broken wire that's embedded in the wall is no small task, either, and you'll need a professional to take care of it. What's more, they'll need to gain access to the broken wire by opening up the wall – an expensive, messy and time-consuming process.
You can get a good idea of where wires are lurking by looking at where your electrical outlets and light switches are placed. Wires will normally be running vertically or horizontally from them, so be wary of drilling nearby.
2.   Beware of Pipes
Drilling into a water pipe might not be such a deadly mistake, but it will be a costly one. Depending on the type of pipe you hit, you might be subject to an endless burst of high-pressure water, which will cause tremendous water damage by the time you've shut off the mains. You might also hit a gas pipe, which can be extremely dangerous if a spark is caused.
Pipes are more difficult to trace than wires because they are often less predictably placed. Each home is different and, depending on the age of the home, the pipes can be metal or plastic, exposed or hidden. Beware of pipes that may also be running through the floors and outside walls.
3.   Know the Danger Zones & Make Them Safe
The areas of the house that are most likely to contain a lot of wires and pipes are the kitchen and bathroom walls and floors. Bathroom walls can contain a variety of pipework, so if your bedroom is on the other side and you want to hang a painting, be extremely careful. Kitchens are typically worse, and can house gas pipes, water pipes, central heating pipes and wires.
In other parts of the home, pipes and wires may run in an orderly fashion. But, they can travel in any direction in these rooms. Before starting work, be sure to switch off the relevant circuit breakers, as well as the water and gas supply.
4.   Get a Stud Finder
So, you have a rough idea of where to watch out for danger, but how can you be sure? A good quality stud finder is your friend; higher-range models are also able to detect a variety of materials, including wood, metal and plastic. Use them to find the studs you want to screw to for a more secure fixing, as well as to detect wires and pipes.
Simply run the device along the surface; it will beep if there's something behind the wall. Be sure to test it first on all material types, and check the depth at which it will continue to detect. Additionally, it may be worth scanning both sides of the wall if you need to screw in long bolts or screws. Also, keep an eye on the batteries; when they're running low, they can cause the device to malfunction.
5.   Understand the Materials
Now that the area is safe to work in, consider the job at hand. It's important to know what materials your walls are made of and whether you'll be able to safely do what you have planned. For example, if you've just bought a stunning antique mirror that weighs a lot, you need to know that the wall you hang it on is up for the task.
Unless you're hanging very lightweight picture frames, it's inadvisable to attempt to fix it to just the drywall as it's not strong enough. You can buy drywall anchors that will add strength but, for heavier items, it's best to find a stud to drill into. When fixing to wooden studs, be sure to drill holes first, rather than screwing directly in, as this can split the wood and make it weaker.
6.   Have the Right Tools for the Job
Different materials require different tools. For example, if your walls, floors or ceilings are masonry/concrete, you'll get great fixing, but you'll need a more powerful drill and the correct drill bits. You can get different drill bits for masonry, wood and metal, and it's important to know the difference. If you need to drill into tiles, you'll need a special tile drill bit to prevent cracking or chipping.
When it comes to drilling holes in your walls, a simple, five-minute task can quickly turn into a DIY nightmare. So, hold your horses and make sure you take all necessary measures to avoid a disaster.
Give RE/MAX Hallmark Pilon Group Realty a call today to find out how your home can be Too Late®
Pilon Real Estate Group Featured Listings: Click here! 
We Keep You Covered When You Buy a Home With Our 12 Month Buyer Protection Plan!
Details at: www.HomeBuyerProtectionPlan.ca
Free Home Search With Proprietary MLS Access – New Listings – Faster Updates And More Accurate Data!
Find Homes Now: www.FindOttawaHomesForSale.com
Find Out How We Get Our Sellers More: Click here! 
RE/MAX Hallmark Pilon Group Realty
www.PilonGroup.com
Email: Info@PilonGroup.com
Direct: 613.909.8100