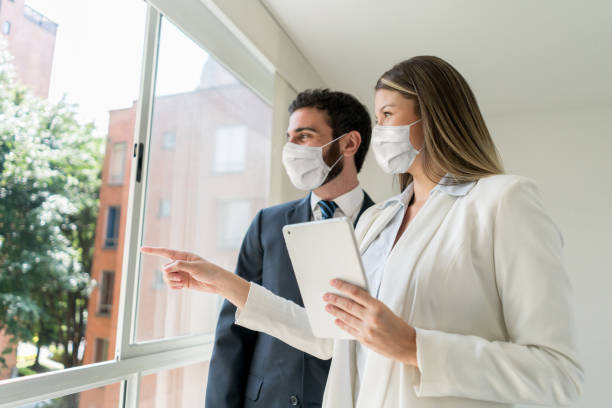 Those engaged in the Ontario real estate market right are likely wondering what's allowed and perhaps more importantly, what's not allowed, under the new province-wide Stay-At-Home order that took effect last week. The emergency order is the third of its kind, in response to record-high COVID-19 case counts and particularly in light of the more-contagious and deadlier variants. To help clarify things from a real estate perspective, here's what homebuyers and sellers need to know.
Why have the new rules been imposed?
The current Stay-At-Home order aims to reduce mobility and curb the spread of COVID-19, which is now well into its third wave. The threat to overwhelm the health-case system is palpable, with the number of positive cases reaching a record-high 4,456 cases in Ontario on Sunday, alongside rising hospitalizations and ICU occupancy. The restrictions require everyone to stay home except for essential reasons, including grocery shopping or attending the pharmacy, accessing health care services (including vaccination appointments), to get outdoor exercise, or for work that cannot be done from home. This means tighter rules for restaurants and retailers with restrictions on non-essential goods, as well as enhanced enforcement measures. Indoor events and social gatherings are not permitted, except with members of your own household (or one other household, if you live alone). Outdoor gatherings are limited to five people. Schools have been allowed to remain open, for now, as the delayed Spring Break kicks off this week. Real estate, which was classified as an essential service at the start of the pandemic, continues to operate under strict guidelines. Meanwhile, the race is on to get vaccines into arms as soon as possible, with the province ramping up efforts by expanding the phased roll-out to include high-risk populations including front-line workers, and "hot-spot" neighbourhoods
"The COVID-19 situation is at a critical stage and we must act quickly and decisively to stay ahead of these deadly new variants," said Premier Ford in a press release. "By imposing these strict new measures we will keep people safe while allowing our vaccination program to reach more people, starting with our high risk population and identified hot spots. Although this is difficult, I urge everyone to follow these public health measures and together we will defeat this deadly virus."
The new measures took effect on April 8 across Ontario and are expected to remain in place for at least four weeks.
What's the impact on real estate activity?
There were no changes from a home-buying or selling perspective. However, the State of Emergency does mean that open houses are prohibited in regions under the shutdown and stay-at-home orders, but property showings are permitted by appointment only. The Real Estate Council of Ontario has further recommended that brokers and agents limit showings to situations where they are necessary.
Ontario real estate and COVID-19:
It's no secret that the global pandemic has dramatically impacted the Ontario real estate industry, from how agents perform their day-to-day duties, to how consumers engage in the market. The pandemic has been a fixture since early spring, so many of the rules and "best practices" that were established at that time remain in effect as we move through this third wave:
Masks are required in indoor and outdoor public spaces, when social distancing is not possible. This recommendation was made as part of the second Stay-At-Home order.
Real estate remains an essential service, which means transactions can continue under strict guidelines. While agents are advising their clients to "hold off" on selling their homes right now if they can avoid it, it's important to recognize that under certain circumstances, delaying the transaction is not an option.
Open houses are banned. There are no exceptions to this rule, and it will remain in place until the Province lifts lockdown restrictions.
In-person showings are permitted by appointment only, when required. Showings can have a maximum of two visitors at a given time, plus the agent; masks must be worn at all times; and surfaces/hands must be sanitized before and after showings.
Virtual real estate transactions and digital tools replace in-person contact whenever possible.
The good news for Ontario real estate
Canadian real estate has been surprisingly resilient amidst this public health crisis and the economic fallout. The government and other organizations quickly stepped to offer financial relief to Canadians impacted by the pandemic, and the Bank of Canada reduced its key interest rate to an unprecedented 0.25% in an effort to stimulate the economy. Despite a deep but short-lived decline in housing market activity last spring, residential sales and prices quickly rebounded from coast to coast, with Ontario real estate posting record growth in 2020. The trend continues thus far in 2021.
The Pilon Group continues to be committed to safe transactions. Government recommendations at the federal, provincial, and municipal levels are constantly changing. We want to offer homebuyers and sellers stability and comfort knowing your real estate needs are still being met in a safe and responsible manner. While we remain open for business, our agents and brokers are taking all necessary precautions as recommended by the various health agencies and government.
Pilon Real Estate Group Featured Listings: Click here! 
We Keep You Covered When You Buy a Home With Our 12 Month Buyer Protection Plan!
Details at: www.HomeBuyerProtectionPlan.ca
Free Home Search With Proprietary MLS Access – New Listings – Faster Updates And More Accurate Data!
Find Homes Now: www.FindOttawaHomesForSale.com
Find Out How We Get Our Sellers More: Click here! 
RE/MAX Hallmark Pilon Group Realty
www.PilonGroup.com
Email: Info@PilonGroup.com
Direct: 613.909.8100