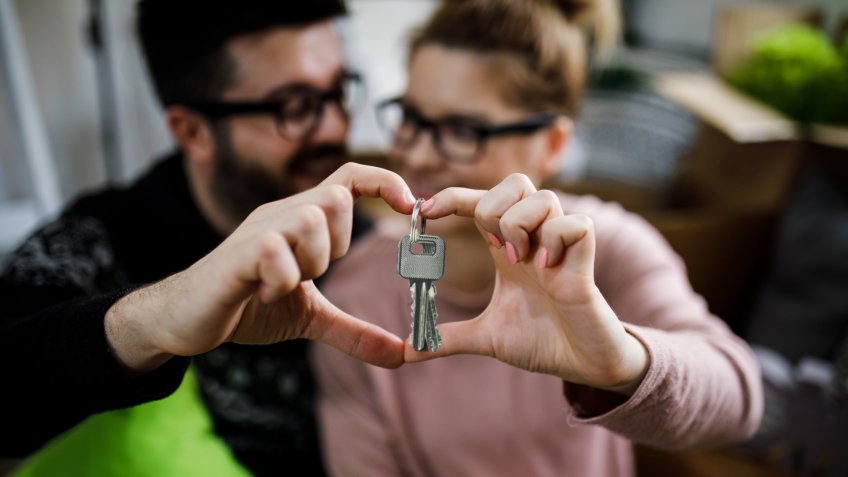 Here you are—after years of paying rent and negotiating with landlords—you're finally ready to buy your own home. Congratulations! You're investing in yourself and your future, laying down some roots and taking the next step in your life's journey.
Whether you're starting a family or just giving yourself more space to pursue your interests, buying a house is the first step on a path of big changes. But don't fret—you've paid rent, you're responsible—you can handle this. After sorting your finances and saving for a down payment, if you check a few new things off your list, you'll totally own being a homeowner.
New expenses
Paying rent and utilities may have given you some experience with monthly household expenses but, as a homeowner, you'll need to familiarize yourself with mortgage terminology and start budgeting for new household expenses. Because you own the property, all of the costs and payments associated with it are your responsibility. Make sure you arm yourself with knowledge and stay protected.
The list below breaks down some of the basic expenses:
Mortgage: A mortgage is a loan you get to pay the difference your downpayment can't cover. Payments cover the loan plus a percentage of low interest over a period of time. In short run, your payments cover more of the interest than the loan but this changes over time as you pay down the debt and own a greater percentage of the home. Mortgage payments are typically due monthly, bi-weekly or accelerated repayment plans.
Mortgage Insurance: If you are unable to afford a downpayment of atleast 20% mortgage insurance is put in place to protect the lender in case of default on your mortgage payments. It is calculated as a percentage of your total mortgage amount and can be paid upfront or rolled into your mortgage payments.
Homeowners Insurance: Home Insurance can help cover the cost of damage to your property or belongings incase of things like fire or theft. It can also protect you if a visitor is injured in your home or you cause accidental damage in someone else's home. Insurance premiums depend on what type of coverage you choose and how much money your property is worth if it needs to be repaired of replaces. These payments can be done annually or monthly.
Condo or Community Fees: In a condominium or in some communities these fees cover shared expenses among residents (ex: cleaning, landscaping, snow removal, maintenance, security and staff). These payments are due monthly.
Property Taxes: Property taxes are calculated as a percentage of the market value of your home at the beginning of each year by the municipality you live in and cover basic services such as waste collection, sewer protection, road and draining maintenance, snow removal, street lighting and emergency services like fire or police. If you buy a home and the seller has pre-paid their property taxes for the whole year, you'll need to reimburse them a promated amount. Property taxes are due monthly or upfront annually.
Utilities: When you own a house, you are responsible for the cost of your own utilities based on your usage.
Handling emergencies
So you're handling all your monthly payments and settling into homeownership well when, all of a sudden, your basement floods or your furnace breaks or those pesky squirrels from your garden have made a new home in your ceiling. What do you do?
Always be prepared! In addition to the expenses outlined above, it's important you have an emergency fund. Although home insurance can protect you from some things, you have to be prepared to pay for unexpected repairs—especially if you buy an older house.
The Financial Consumer Agency of Canada recommends starting with a realistic amount with the goal of gradually saving the equivalent of three to six months of regular expenses.
Being a good neighbour
Having good relationships with your neighbours will make all your lives better. Hosting a BBQ or inviting them over for a drink is a good way to foster a positive neighbour culture. In addition to getting joy from being part of a friendly, tight-knit community you'll also help make it safer.
Be courteous by keeping your yard and sidewalk clean and offer to help when your neighbours go away.
Learn to be handy or be okay to pay
When something breaks or stops working, you won't be able to just call the landlord anymore. As a homeowner, you have to be prepared to make fixes yourself. You can probably afford to set up a small workshop in your home to manage these projects—and even get good at them. Maybe you're the type of person who loves a challenge and you'll be handling significant renovations yourself!
If you don't have time to manage all of that or the job is too complicated for your level of handiness, you can always find a professional to help—just be ready to cover the costs. If you live in a condo, your condo fees may cover some types of maintenance and repair. Make sure you review the terms so you know what to expect.
Even if nothing is broken, planning and budgeting for small upgrades over time like new carpeting, doors, light fixtures, or paint will help keep your home up to date. Continuing to add value to your home requires money and time beyond the initial investment, so be sure to keep that in mind.
If you keep these things in mind, make a budget and leave some room in it for the unexpected, you'll settle into homeownership comfortably and gracefully. Your Pilon Real Estate Group Agent can help you navigate these new challenges so don't be shy to ask questions—you're not alone!
If you've been asking yourself—"Am I ready?"—lately, you probably are.
Pilon Real Estate Group Featured Listings: Click here! 
We Keep You Covered When You Buy a Home With Our 12 Month Buyer Protection Plan!
Details at: www.HomeBuyerProtectionPlan.ca
Free Home Search With Proprietary MLS Access – New Listings – Faster Updates And More Accurate Data!
Find Homes Now: www.FindOttawaHomesForSale.com
Find Out How We Get Our Sellers More: Click here! 
RE/MAX Hallmark Pilon Group Realty
www.PilonGroup.com
Email: Info@PilonGroup.com
Direct: 613.909.8100