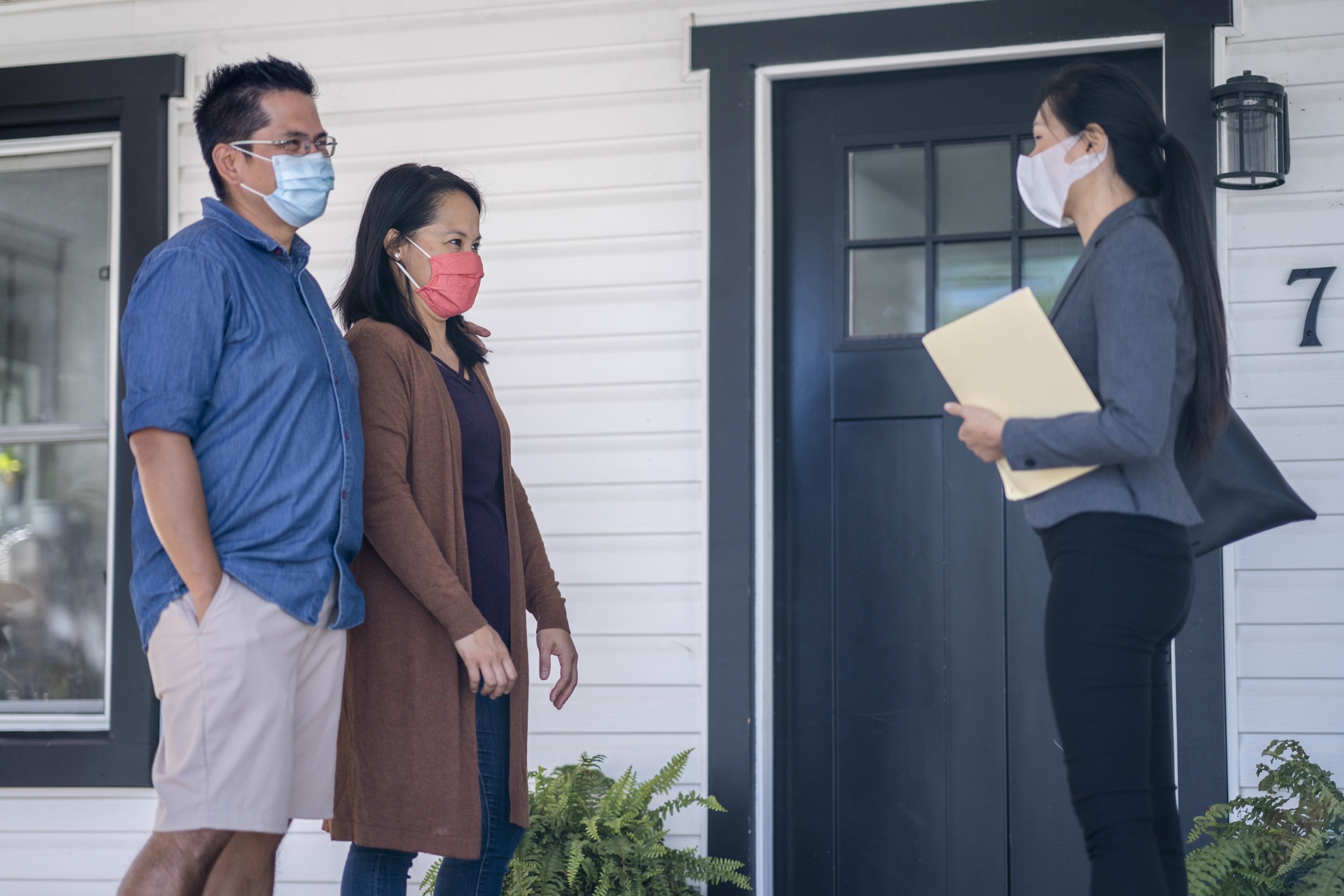 Canadian real estate experienced a spike in interest and activity during the last 18 months, despite COVID-19 – or, as some might have it, due to it. The moratorium on travel, the rise in remote working and learning, lockdowns and general economic uncertainty have prompted many Canadians to set their sights on the Canadian housing market as a safe place to spend their time and invest their money. As with most social and many transactional activities, home hunting took a digital turn, with virtual tours and digital paperwork allowing for safe, "touchless" transactions. Now, as life slowly returns to some version of its formal self, you may have noticed "open house" signs popping up again, leaving many wondering about their legal rights regarding proof of vaccination in the Canadian real estate market.
If you're selling your home, are you allowed to ask prospective purchasers to show proof of vaccination before opening your door to them? And as a homebuyer, must you oblige? We asked Canadian real estate lawyer Mark Weisleder, Senior Partner at Real Estate Lawyers.ca LLP, to weigh in on these issues.
Proof of Vaccination Requirements Taking Effect Across Canada
Canadian provinces are starting to roll out their "proof of vaccination" plans, requiring patrons of non-essential indoor establishments – such gyms, sporting events and restaurants – to show that they've received the jab. Manitoba and Quebec were the first to institute policies, followed by British Columbia on September 13 and Ontario on September 22. Meanwhile, officials in New Brunswick, P.E.I., Newfoundland and Labrador, and Yukon Territory have confirmed that they, too, will likely follow suit.
What Are Your Legal Obligations When Engaging in the Canadian Real Estate Market
As Canada grapples with the fourth wave of COVID-19 and further lockdowns unlikely (at least, for now), many are now wondering what their legal rights are with respect to proof of vaccination requirements when engaging in the Canadian housing market, either as a homebuyer or seller.
Can a home seller require prospective buyers to show proof of vaccination before granting entry into the listed property?
"In my opinion, the answer is yes, subject to any real estate board rule about showings," says Weisleder. "If the board rule specifically does not require this, then the home may not be permitted to be shown on the board MLS system."
Ask your realtor or contact your provincial real estate board to see if they have any specific policies in place concerning open houses, private showings and vaccine passports. Below we've listed the COVID-19 vaccination certification system for the Real Estate Council of Ontario:
On September 2, 2021, the Government of Ontario announced its plan for a COVID-19 vaccination certification system that will be a key tool in enhancing public safety and keeping businesses open as Ontario enters the fourth wave of the pandemic. Beginning September 22, 2021, Ontarians will need to be fully vaccinated (two doses plus 14 days) and provide proof of vaccination along with photo identification to access certain public settings and facilities.
The government's announcement did not specifically identify requirements that would affect real estate brokerages, showings or open houses, however public health measures should be followed for any services taking place in a public setting outlined by the government.  
Real estate professionals and brokerages play an active leadership role in their communities. This announcement presents a renewed opportunity to take appropriate steps to keep people safe. We encourage everyone to follow public health guidelines.
RECO continues to work closely with key stakeholders and is committed to communicating relevant updates to real estate professionals and consumers.
Weisleder adds, "Practically speaking, I question whether a seller understands that this may in fact cause many buyers not to want to even see the property."
Is requiring proof of vaccination enforceable? And if so, by who?
"If permitted by the board rules, a seller can authorize the listing brokerage to ask for proof of vaccination, similar to rules about wearing masks and gloves that have already occurred," Weisleder says. As calls for "vaccine freedom" get louder, Weisleder says he's not aware of any legal implications on the seller's part, resulting from requesting proof of vaccination.
Are there legal obligations to comply, on the part of the buyer?
"If those are the terms, the buyer can comply or just refuse to see the home," Weisleder says.
With that being said, Weisleder wonders if proof of vaccination is even necessary, given the Canadian real estate industry has continued to operate safely through COVID-19.
"Real estate agents have already been very successful in making showings safe, during the entire period of the pandemic. This is the real story," says Weisleder.
As we navigate this ever-changing landscape, it's not uncommon for questions to arise about vaccine passports and Canadian real estate. Ultimately, consumers should feel safe and comfortable when deciding how to show and view homes. Whether that means requiring proof of vaccination or not, discuss your concerns and possible solutions with your real estate agent. Remember, this might be the first time you're buying or selling a home during a global pandemic, but if you're working with an experienced realtor, they've likely done this many times in the last 18 months, and have a feasible solution that puts your safety, needs and goals first.
Pilon Real Estate Group Featured Listings: Click here! 
We Keep You Covered When You Buy a Home With Our 12 Month Buyer Protection Plan!
Details at: www.HomeBuyerProtectionPlan.ca
Free Home Search With Proprietary MLS Access – New Listings – Faster Updates And More Accurate Data!
Find Homes Now: www.FindOttawaHomesForSale.com
Find Out How We Get Our Sellers More: Click here! 
RE/MAX Hallmark Pilon Group Realty
www.PilonGroup.com
Email: Info@PilonGroup.com
Direct: 613.909.8100