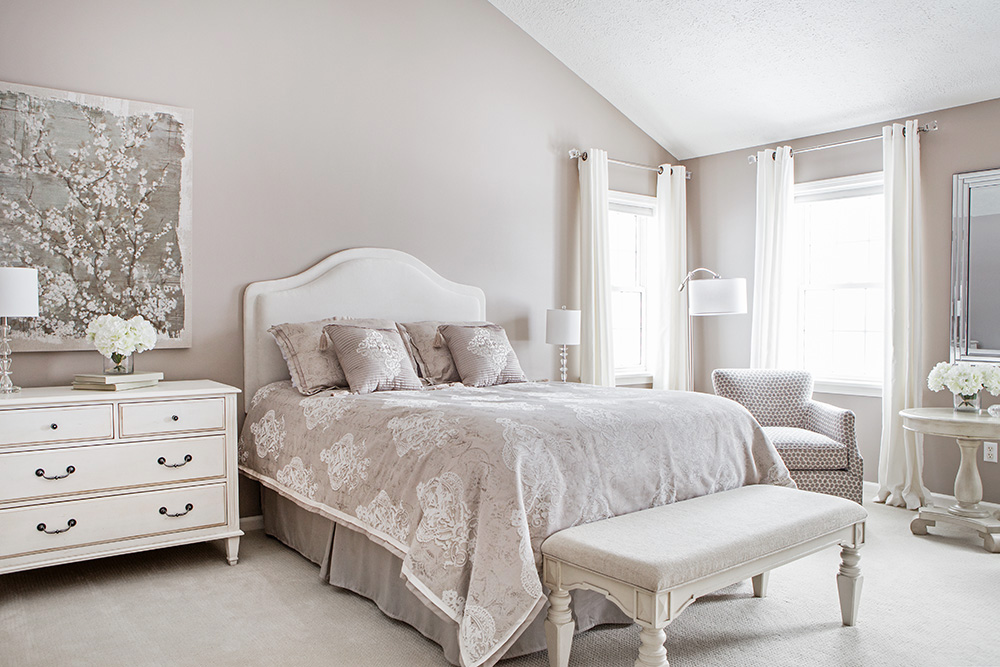 For some reason, it seems like the master bedroom is the last spaces in the house to truly complete. Often, homeowners have re-done their entire house before finally tackling their private retreat. Unfortunately, sometimes this coincides with when they're ready to move on, either because they've outgrown the place or want to downsize. At this point, you can't put off the facelift any longer. Here's how to implement affordable upgrades in your master bedroom.
Your bed should make a bold statement
When you put your property on the market, you're also selling a lifestyle, so you want your master bedroom to look serene and appealing. Impress potential buyers who will be visiting your house by creating a focal area in a master bedroom. Whether you get a custom, upholstered headboard wall, which is very trendy right now, or you find a beautiful wood bed for more of a rustic look, your bed should make a beautiful statement.
If you're handy, you don't have to fork over piles of cash to get a show-stopping headboard. Re-purpose materials you already have, such as old barn boards laid horizontally along the wall or in a herringbone pattern. Or, get creative by upcycling discarded items such as a vintage panelled door.
A tufted headboard is fairly easy to make on a weekend afternoon; choose vibrant, budget-friendly fabric for an affordable piece you can take with you when you move.
Choose a cohesive colour scheme
If you already have a headboard and just need a spruce-up, a set of crisp white sheets and a fluffy duvet can do wonders to upgrade the bed to the next level.
To lend upscale hotel flair to your space, add a bold colour with decorative accent pillows, a throw and a rug in blues, greys or purples to warm up the bed. Those will always work with whites and you can interchange them however you want.
Layer the lighting
Got a high ceiling? Don't underestimate the impact of a gorgeous chandelier, which can totally transform a master bedroom. Light fixtures help ground everything and when you put a chandelier in the room, it really adds texture; if it's sparkly, it adds glamour.
A lampshade makes it more soothing, contemporary, and a little moody. Put generous-sized lamps on either side of the bed.
They should feel high and big, and not too puny, because you want to make it feel inviting.
Give your space a luxurious vibe
Stage the master bedroom thoughtfully with accessories such as a lovely breakfast tray or a plush seating area at the foot of the bed or in a corner.
Play with different heights by having beautiful vases filled with flowers to add colour and texture plus different ornaments and a clock on the nightstand.
Hanging some artwork, will liven up the space. Make sure you're not showcasing too much drywall and that you're actually creating a vibe that ties into the décor, the rug or anything else you've introduced.
Nothing kills a gorgeous vibe better than a pile of clutter, so make sure you incorporate a sleek bookcase for your reading materials, a pretty hamper in the closet to keep clothes off the furniture and enough storage options to corral everyday items. Oh, and keep your treadmill in the basement, not in your lovely master suite!
Upgrading your master bedroom could make it easier to get home buyers to put your property on their shortlist. Paying attention to details such as lighting, bedding and accessories can make a large impact on potential buyers. . Have some fun with your makeover and show off the bedroom of future buyers' dreams!
Pilon Real Estate Group Featured Listings: Click here! 
We Keep You Covered When You Buy a Home With Our 12 Month Buyer Protection Plan!
Details at: www.HomeBuyerProtectionPlan.ca
Free Home Search With Proprietary MLS Access – New Listings – Faster Updates And More Accurate Data!
Find Homes Now: www.FindOttawaHomesForSale.com
Find Out How We Get Our Sellers More: Click here! 
RE/MAX Hallmark Pilon Group Realty
www.PilonGroup.com
Email: Info@PilonGroup.com
Direct: 613.909.8100