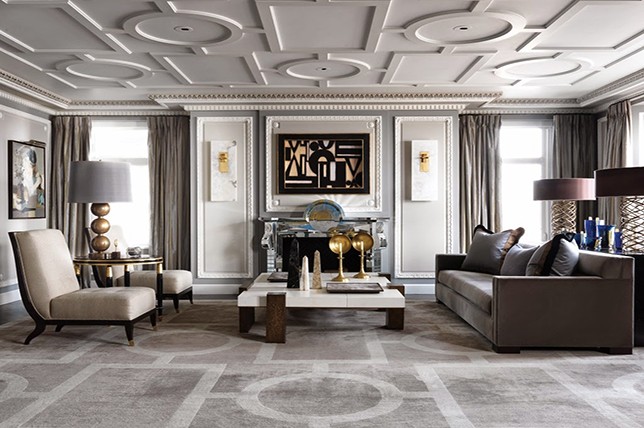 Contemporary interior design might be one of the most misunderstood design styles. Sometimes confused with modern design, contemporary design doesn't embody one particular style or era; rather, it is constantly evolving to reflect what is popular and current.
Contemporary design is actually a bit of a melting pot of styles, borrowing traits from modern, minimalist, Art Deco and traditional interiors. While what's popular will always be in flux, there are a few constants that help identify a contemporary home. These six tips will help you create the calm and welcoming aesthetic that makes contemporary interior design so popular.
1.      Remain Neutral
Contemporary interiors strive to create a calm, stress-free environment.  To get this feeling in your own home, start with a neutral color palette. That doesn't mean your home should be devoid of color; instead, choose more subdued shades to complement your neutrals.
To make a neutral space stand out, start with a backdrop of your favorite hue of warm gray, light beige or crisp white. Add interest by layering in different shades of the same color for a tonal effect. Then, incorporate black or dark brown accents to create contrast.
If you want to add color, stick to muted tones that read like neutrals. Deep hues – such as navy or burgundy – and soothing, pale shades of pink or blue-green coordinate with almost everything and won't overwhelm a neutral color scheme.
2.      Look for Clean Lines
Contemporary interior design is all about well-made pieces that place function and form on equal ground. Furniture should be comfortable yet practical with simple shapes and clean lines. Include a balance of straight and curved lines to create interest, but skip elaborate accents and ornate details.
Clean lines are becoming even more prominent in contemporary kitchens. To mimic this look in your own home, choose smooth, sleek countertops with waterfall edges. And, when updating your appliances, opt for cabinet door fronts that blend seamlessly with the rest of the kitchen.
3.      Less is More
Clean spaces are just as important as clean lines when it comes to contemporary interiors. Borrowing some traits from minimalism, contemporary design favors a neat and clutter-free appearance. To achieve the look, keep surfaces clear and decorations to a minimum.
Furthermore, incorporate low-profile furniture that keeps sightlines open to make rooms feel more spacious. As opposed to an abundance of accessories, use dramatic, oversized art to create a focal point and add color and interest.
4.      Add Some Shine
To keep a neutral space with clean lines and minimal decor interesting, just add a little glam; think reflective surfaces, shiny metallics and glass accents that sparkle and redirect light. And, don't forget the ultimate sparkler – a sleek fireplace is the anchor of almost every contemporary living room.
Glass tabletops are also staples in current contemporary interiors. Whether it's a coffee table or a dining table, glass creates the appearance of more space. But, if glass isn't your thing, metallics can be your secret weapon to add both shine and glamour to a space.
Additionally, try adding touches of metal – such as brass curtain rods, gold accent trays or chrome accent furniture – to draw the eye around the room. Or, if you're ready for a little more glam, high-shine modern metallic light fixtures make for stunning focal points.
5.      Elevate a Space with Texture
With so many clean lines and smooth surfaces, contemporary interiors can sometimes feel a bit cold. To create a space that doesn't fall flat – and is instead filled with warmth – add lots of texture.
Including a variety of different textures will create a tactile experience that welcomes you into the space. For instance, knobby pillows and chunky knits are a great complement to smooth, leather furniture. Similarly, glossy glass and metallic accents will create contrast against rough materials, such as wood and stone.
6.      Embrace Technology
While technology may not have played a big role in contemporary design just a few years ago, smart homes are now becoming more than just a trend. From virtual home assistants to smart lights to cameras that keep an eye on things when you're not around, equipping your home with technology can add convenience to your life.
To incorporate technology without sacrificing style, be thoughtful about how you outfit your smart home. Do your research and choose products that work together to reduce the number of hubs and portals in your home. For example, consider camouflaging video cameras with colorful skins that help them blend into their surroundings. Or, hide charging stations in drawers or install pop-up plugs to reduce clutter.
Give RE/MAX Hallmark Pilon Group Realty a call today to find out how your home can be Too Late®
Pilon Real Estate Group Featured Listings: Click here! 
We Keep You Covered When You Buy a Home With Our 12 Month Buyer Protection Plan!
Details at: www.HomeBuyerProtectionPlan.ca
Free Home Search With Proprietary MLS Access – New Listings – Faster Updates And More Accurate Data!
Find Homes Now: www.FindOttawaHomesForSale.com
Find Out How We Get Our Sellers More: Click here! 
RE/MAX Hallmark Pilon Group Realty
www.PilonGroup.com
Email: Info@PilonGroup.com
Direct: 613.909.8100