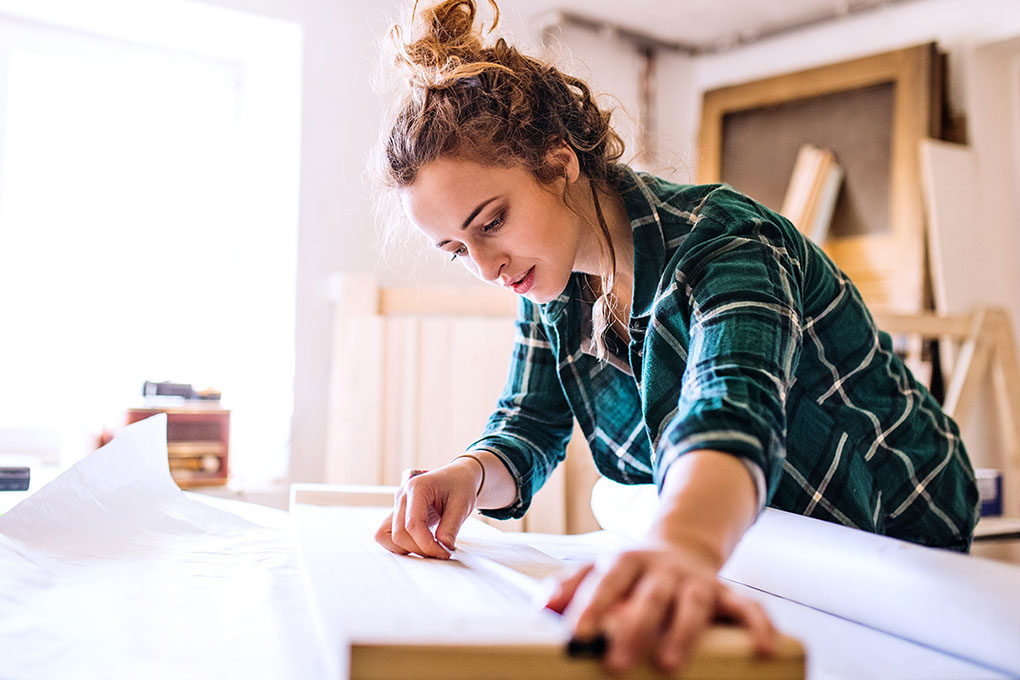 Blowing the budget is everyone's biggest fear when it comes to home renovation projects. Even if you follow standard guidelines—like building in a 20% cushion to cover unexpected costs, vetting contractors, and staying focused—it's hard to prevent spending more than you'd like to. But with some strategic planning, you can save money in the lead-up to your big remodel and cut costs without cutting corners.
1. Figure out your priorities
We get it: You're super excited to get into your new house, and you can't wait to make it yours. But before you start envisioning walls coming down, scale down your big dreams.
Yes, there's a long list of things you want to do to improve your property, but be patient, Take your time and slowly save up so you can pay for the renovations in cash. Avoid taking on more debt by making a list of what must get done versus what you wish can get done.
Paying for everything in cash, living within your means and saving up for those renovations. It's a good feeling, because you don't have to worry about adding more debt onto your budget. That's the best strategy.
2. Take a closer look at your new home's utilities
Instead of simply swapping your name onto the property's current utility bill, shop around for a better deal.
See if another utility company can provide the same service for less money. Sometimes, it's so chaotic when you settle into a new home, but don't let your home insurance auto-renew without checking with different providers to see if you can get the same policy for a cheaper price; that could save you hundreds, if not thousands of dollars in the long run.
Other things you can probably get a better deal on include your internet, cable or satellite provider.
3. Keep yourself accountable
Instead of focusing on cutting out your daily $7 latte, we recommend tracking your spending and making a budget to see where all your money is going.
Look at every single line item and ask if it makes sense or if you get the same thing for less money. Doing that–especially for monthly bills–is important, because if you can decrease those expenses, you'll be saving much more money.
One way to make sure you stick to the saving mindset? Plan a year ahead.
Don't just decide to redo a room on a whim; sit down and ask yourselves, What are we doing this year?
Place a whiteboard on your fridge outlining what we'd like to do in priority sequence. At least you know you won't do reno number two until number one is paid in cash. Keep checking in with yourself about your financial plans.
4. Out with the old, in with the not-so-new
Instead of paying full price for new furniture, appliances and decorative accessories, check out online marketplaces where you can buy or sell just about anything.
Examples of previous owners who had put in a brand-new, but ugly stove that had never been used. The new owners were able to sell it, and used the proceeds to buy a new one, Something you don't like may be exactly what someone else is looking for.
You may also want to check with friends, neighbours and family to see if they're purging things you might need. For example, repurposing someone's kitchen cabinets or leftover construction materials can save big bucks. Or, purchase good quality second-hand furniture that can be transformed with a coat of paint.
5. Don't forget about un-sexy home improvements, like maintenance
In addition to your budget for upgrades, set aside money for when things ultimately break down. Such as air conditioning unit, boiler, dishwasher or fridge.
Although these purchases may not be on your wish list;  going into expect repair and maintenance costs, so the funds were there.
Depending on how old your house is, you need to set aside one to 2% of your home's value for maintenance every year. Your home inspection report can be a valuable tool; many inspectors include a range of fees associated with maintenance, repair and replacement costs. Keeping these tips in mind as you plan your renovation will save money and buy peace of mind.
Pilon Real Estate Group Featured Listings: Click here! 
We Keep You Covered When You Buy a Home With Our 12 Month Buyer Protection Plan!
Details at: www.HomeBuyerProtectionPlan.ca
Free Home Search With Proprietary MLS Access – New Listings – Faster Updates And More Accurate Data!
Find Homes Now: www.FindOttawaHomesForSale.com
Find Out How We Get Our Sellers More: Click here! 
RE/MAX Hallmark Pilon Group Realty
www.PilonGroup.com
Email: Info@PilonGroup.com
Direct: 613.909.8100