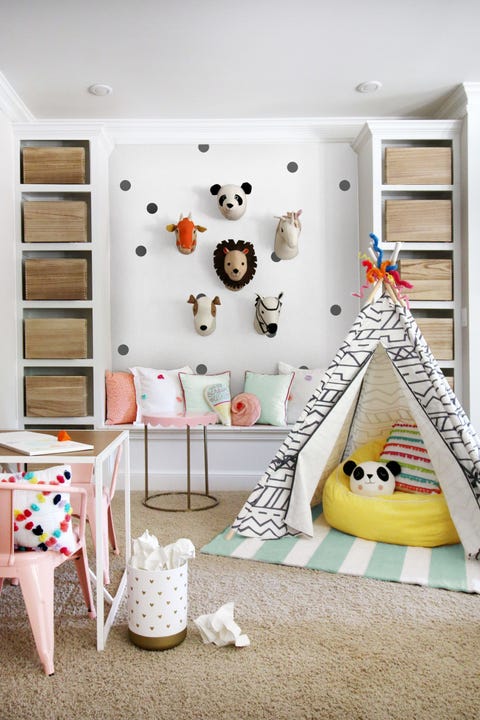 Having a child changes a lot of things about a person, habits and all. One thing that always changes is the house, be it by incorporating the child's room, a playroom, or simply baby-proofing everything. However, if you're living in one of those classic Downtown apartments where you don't have enough space for everything baby, it's time to get creative.
With so many methods for designing the perfect place for your child, it gets tougher and tougher to choose. It almost seems impossible when you're lacking space, so if you want to design a playroom, you should be precise in how you want it to feel and how you and your child will move through the space. Here are some tips on how to better design a playroom when you don't have enough space.
Pick the Location and Rethink the Outline
First of all, decide where you want this space to be; pick a location with plenty of natural light and preferably in a corner. This will help make the space more appropriate for the child, while also maximizing the space you have available.
The corner is ideal for placing storage cubes and baskets, especially if you have an ensemble of cube shelving. They will create a surface the children can use for various activities, from drawing to browsing books.
Think about a space where you can add a table and chairs for the kids, to create a tiny desk. Place a practical rug in the center—preferably in a grayish hue—where you can sit down and play together. Make sure to get a rug that is easy to clean. This will be the main area, so anything else you want to add should revolve around it. Try and keep things simple; too many items might create confusion.
Repurpose and Adapt Furniture
Keeping the furniture at child level is important, because allowing them to browse and make a selection on their own nurtures independence. Also, it occupies less space; the extra vertical space that remains is great for placing higher-up shelves where you can keep items that shouldn't be accessible to the children.
Another important item is a relaxing, comfy place where the kid can relax or calm down. You can have a couple of blankets or pillows lying around, a bean bag, or a comfortable chair for the little one. Bring in a mirror as well; besides enlarging the space and reflecting natural light, it's important for children to see their own reflection.
Embrace a Practical Design Which Encourages Creativity
A playroom is all about engaging the kid in creative activities, but overstimulation is never good. That is why it's important to keep the design minimal and practical. Make sure you have a place for everything, to avoid random items placed on countertops or on the floor. Cute and tiny organizational items such as bins and baskets are a great way to ensure minimal clutter in the playroom.
A great trick to use is rotating toys. Select a number of toys to have in the playroom for one or two weeks and place the rest of them in storage. By controlling the number of toys in the playroom, you avoid clutter, and you also reduce indecision by allowing the kid to make an easier choice, between fewer options. When the child is bored with one toy or another, simply go to the storage and replace the toys of that week with 'new' ones. This technique will keep away boredom and prevent overspending on toys.
To inspire more creativity, add little details on the walls such as artwork, even your kid's own drawings. Try to bring nature in as well; add small arrangements or hang flowing plants to add color and create a focal point for the eyes to rest. Make sure the plant is non-toxic for the kids. Whenever it's raining outside, or when the sun is shining in through the window, push curtains to the side and let the kid be captivated by nature.
Combine Neutral Colors with Bright Accents
Although the general tendency is to go bright and bold with colors, the playroom should be a calm, soothing place where the kids can focus and exercise their concentration. To this purpose, choosing neutral hues for the walls and the bulky furniture helps to better integrate accents of color, without overwhelming and dominating the space.
Warmer tones like eggshell, beige, sand, or oatmeal can be a great base, and if you're feeling bold, paint a part of the space or one wall with chalkboard paint, which will allow the kids to draw on the walls, without damaging it. After you have a neutral base, you can add pieces of décor in green, blue, red, orange, or pink, but make sure not to add too many.
Give RE/MAX Hallmark Pilon Group Realty a call today to find out how your home can be Too Late®
Pilon Real Estate Group Featured Listings: Click here! 
We Keep You Covered When You Buy a Home With Our 12 Month Buyer Protection Plan!
Details at: www.HomeBuyerProtectionPlan.ca
Free Home Search With Proprietary MLS Access – New Listings – Faster Updates And More Accurate Data!
Find Homes Now: www.FindOttawaHomesForSale.com
Find Out How We Get Our Sellers More: Click here! 
RE/MAX Hallmark Pilon Group Realty
www.PilonGroup.com
Email: Info@PilonGroup.com
Direct: 613.909.8100