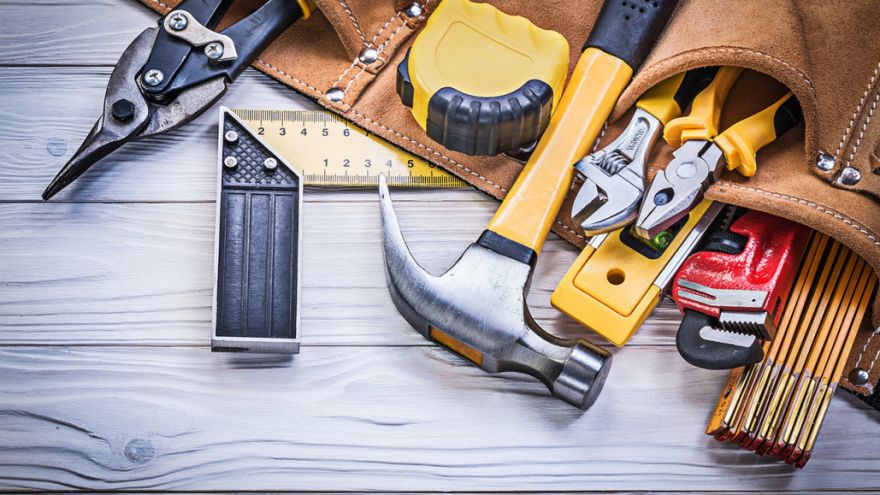 Becoming a homeowner opens up the doors of DIY like never before. While in most rented properties you're forbidden from changing things, you can change all kinds of things when you have your own home.
But, even if you don't plan on doing much DIY, it's useful to have a basic tool kit when you own your home. The following 12 tools will get you started and enable you to fix the basics, as well as make the changes you desire.
1.   Measuring Tape
When you first move into a new home, you'll be amazed at how many measurements you'll need to take. For example, can you fit that couch through the door? A measuring tape will help you with everything from furniture placement to hanging paintings to fitting new flooring and more.
2.   Saws
It's well worth having a few different saws in your toolbox. A regular hand saw is useful for cutting things like moldings, while a hack saw is great for plastic or metal. More advanced DIYers might consider electric saws, such as a circular saw or a miter saw. Make your life easier by investing in a couple of decent sawhorses, as well.
3.   Screwdriver Set
Screwdrivers are extremely useful to have around the house. The best option is to buy one with changeable heads and stock up on a wide variety of bits. This way, you'll always have the screwdriver you need. The uses are endless, from putting furniture together to bleeding radiators. Smaller heads are essential for electrics, although it's a good idea to look for a set of tiny watchmaker's screwdrivers for your smaller needs.
4.   Cordless Drill
A cordless drill will be a great companion if you plan to carry out a lot of DIY work. Get a decent model that has the power to tackle drilling into masonry if you think you'll need it. Not only do they drill holes, but drills can also be used as electric screwdrivers. They cover a wide variety of tasks – such as fitting shelves and assembling large pieces of furniture. Plus, with the right bit, they can be used for drilling larger holes.
5.   Level
A level will ensure that you keep your shelves straight and your flooring isn't sloping. Easy to use and available in a wide range of lengths, most DIYers will only need a 6" or 12" level to keep them on track.
6.   Hex Keys
Like screwdrivers, hex keys are really useful around the home. They're especially good for flat-pack furniture and bikes. Buy a set that has something to keep them together because they're easy to lose if they're kept loose.
7.   Utility Knife
A utility knife has a thin, retractable blade that can be used for all kinds of household tasks. They save a lot of frustration when opening stubborn packages and parcels, and will slice through most plastic, cardboard and rubber with ease. Replacement blades are cheap and easy to swap out, so it's okay if the blades get used a lot.
8.   Pliers
Pliers come in several shapes and sizes. Regular pliers are stubby and good for getting a firm grip on smaller objects, and they also typically have a cutting edge, which is great for making a clean cut on wires. Needle-nose pliers are thinner and longer and are ideal when you need to grip something that is hard to get to. Multi-grips are larger with an adjustable "mouth." They're good for a wide range of tasks, and can even do the job of a wrench in a pinch.
9.   Ladder
In an apartment, you probably won't need a full-size ladder, although a step ladder is useful for swapping out light bulbs or cleaning the cobwebs from the ceiling. However, a typical six-foot ladder can help with a variety of tasks inside and outside the home, although you may need something bigger for roof work and cleaning out the gutters.
10.   Adjustable Wrench
Lots of furniture is bolted together, although it's unlikely that you would want to invest in a whole set of wrenches. That's why an adjustable wrench is perfect, as you can use it on a variety of different sized nuts and bolts – making it useful for working on furniture, vehicles and much more.
11.   Scraper Set
Scrapers are essential for working with walls and can help you apply filler or plaster for repairs. They're also fantastic at scraping dirt and grime, such as dried glue or caulk from other surfaces.
12.   Stud Finder
A stud finder is a game-changer, especially if you want to hang decorations or fit shelves to your walls. Cheap and effective, they'll let you know when you come across a stud in the wall, ensuring a safe and secure fixing each time.
If things go wrong, it's up to you to get it fixed and, sometimes, calling in the pros isn't worth it. These tools will help you take care of all the minor problems that are sure to arise in any household.
Pilon Real Estate Group Featured Listings: Click here! 
We Keep You Covered When You Buy a Home With Our 12 Month Buyer Protection Plan!
Details at: www.HomeBuyerProtectionPlan.ca
Free Home Search With Proprietary MLS Access – New Listings – Faster Updates And More Accurate Data!
Find Homes Now: www.FindOttawaHomesForSale.com
Find Out How We Get Our Sellers More: Click here! 
RE/MAX Hallmark Pilon Group Realty
www.PilonGroup.com
Email: Info@PilonGroup.com
Direct: 613.909.8100