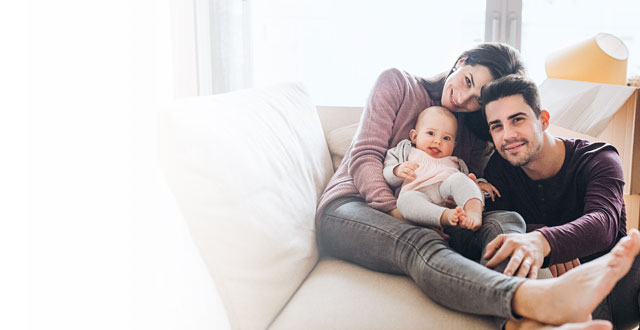 Deciding to start a family is an exciting time — and so is searching for a new family friendly home. Look for the following features when home hunting, to ensure your new digs accommodate all its residents, big and small..
Kid Corral
While an open-floor concept may seduce your inner interior designer, resist the urge for openness when looking for a family-friendly home. Having the ability to close the door to the kitchen, living room and dining room will help corral energetic toddlers. Plus, when guests come over to meet the new baby, you only need to clean one room rather than the whole floor.
Family Floor
Fact: Small kids make big messes. You'll need to clean your floors often, so think about how much time you're willing to spend vacuuming, scrubbing and mopping. Carpets add extra cushion, but also require more intensive care. Wood or wood laminate floors repel spills, but are hard on tiny heads.
Parks and Recreation
As a free-wheeling child-free couple, sporadic street parking or public transit covered your travel needs nicely. But when you have a kid or two in tow, reliable, readily available parking close to home should be on your must-have list if driving is your mode of transportation. The last thing any new parent wants to do is carry a car seat six blocks too and from their front door.
Fenced In
When searching for a new home for your growing family, give yourself the gift of relaxation with a fenced yard. Knowing there's a safe place for your rascals to run in will make all the difference to your daily life. A contained condo courtyard or nearby fenced-in playground also will do the trick.
Bath Path
A sprawling Roman shower with walk-in panels and a giant rain shower-head may be your dream, but babies have different bathing requirements. Buying a home with a practical bathtub will turn the task of washing into a water-filled play time.
Paint by Number
Jam-covered fingers, liberated lipsticks and permanent markers are the sorts of substances you'll be dealing with in a new family home. If the walls of a prospective house are already painted with an easy-to-clean semi-gloss, you're closer to winning the grime game.
Bedroom Eyes
Before you have a baby, the idea of spread-out bedrooms might seem like a smart idea — distance between rooms means more sleep and privacy, right? But making sure the kids' bedrooms are close to the master suite will save you precious minutes during midnight meltdowns.
Step to It
When a kid sees a set of stairs, they can't resist the urge of climbing. Sure, baby gates can stop small feet from finding a foothold, but they also encumber adults roaming free. This is a big benefit of a single storey family home, at least while your babies are still crawling or toddling.
Childhood Memories
Having an idea of the lifestyle you want once your family begins to grow will inform your search for the right neighbourhood. Is downtown living, with its proximity to cafes and shops, a priority? Or is it a large garden and access to outdoor activities? The location of your new family home is probably the most important feature to consider.
If you have a baby on the way, now's the time to pay attention to a family friendly home. Each one of these features will reduce some stress that comes with a new addition to the family. Choose wisely and let this house be a place to grow your family for years to come. If space is an issue now with the little ones check out our blog on How to Create a Playroom With Minimal Space.
Give RE/MAX Hallmark Pilon Group Realty a call today to find out how your home can be Too Late®
Pilon Real Estate Group Featured Listings: Click here! 
We Keep You Covered When You Buy a Home With Our 12 Month Buyer Protection Plan!
Details at: www.HomeBuyerProtectionPlan.ca
Free Home Search With Proprietary MLS Access – New Listings – Faster Updates And More Accurate Data!
Find Homes Now: www.FindOttawaHomesForSale.com
Find Out How We Get Our Sellers More: Click here! 
RE/MAX Hallmark Pilon Group Realty
www.PilonGroup.com
Email: Info@PilonGroup.com
Direct: 613.909.8100